The Indian Summer in Canada is a very special spectacle that you need to view. However it needs a little bit of luck. If the basic conditions are not right, the Indian Summer can be cancelled sometimes.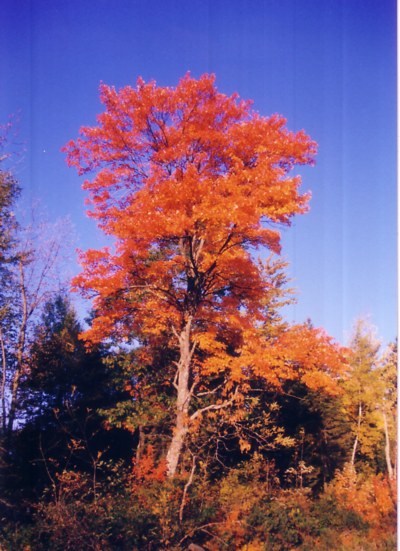 When the summer was rainy, the colouring of the forests is very intensive. In contrast, a rainy autumn unfortunately allows just a normal colouring of the deciduous trees. The colouring of the trees is much more spectacular than in Europe, because there are more species of broadleaf trees. Twenty different species of maple and nine species of oak are native to the region. Each of them provides different nuances of colour in autumn.
Foliage – Indian Summer in Canada
The Indian Summer is fundamentally an exceptional period of good weather in autumn with warm, dry and cloudless days and cold nights. This weather period is accompanied by a particularly intense colouring of the forests, also called "foliage". This spectacle of colours impresses with its intensity and is a special natural phenomenon.
Nevertheless, in order to experience the most intense colours, you have to catch the "Peak Point", which only lasts a few days and moves from north to south. The trees then display a variety of colours with intense red, yellow or orange tints, coupled with a deep blue sky, which, whith the adequate light irradiation, is not unlike a sea of flames.
Peaceful travelling in fall
You can experience this natural phenomenon between middle of September and middle of October. Maple and dogwood, birches and oaks then glow in rich shades of ocher, yellow, red or orange.
With its warm, sunny days and clear, cool nights, this is an ideal travel time in the eastern provinces of Canada. You will travel relaxed from village to village, explore quiet backroads and view small white churches surrounded by the colourful scenery. Now it is also the time of the harvest festivals.
In the region where fruit is grown, south of Montréal, apples are harvested and cider is pressed. Thanksgiving of Canadians is celebrated during these peaceful autumn days, when people traditionally meet for their turkey meal.
---