---
There are 518 airports in Canada, from small airfields to major international hubs. Five of the eight largest airports are located in eastern Canada. Lester B. Pearson International Airport Toronto is the most powerful of them with almost 50 airlines and about 150 worldwide destinations.
Toronto Airport Lester B. Pearson (YYZ)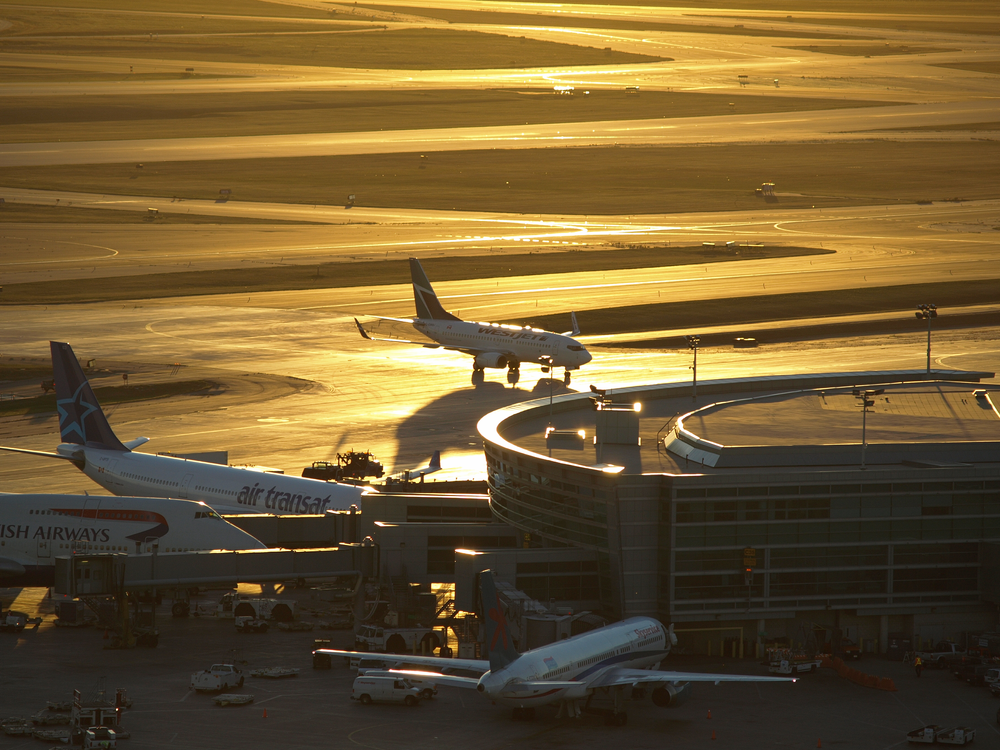 Toronto Pearson International Airport is the most frequented of all airports in Canada and handled 49.5 million passengers in 2018. The airport is serving the greater Toronto area is located in the nearby city of Mississauga. In terms of total passenger volume, the airport ranks 33rd among the busiest airports in the world. In terms of international passengers, it is second in North America after John F. Kennedy Airport (New York). The airport was originally called Malton Airport, then Toronto International Airport, before it was given its current name in 1984. The airport was named after Lester B. Pearson, who acted as the country's 14th prime minister and was awarded the Nobel Peace Prize in 1957.
While you're here
If you're looking for Pearson Duty-Free or a Pearson Airport restaurant or some other kind of Toronto airport shops, lounges or services, Toronto Pearson Airport offers just about everything.
Montréal-Pierre Elliott Trudeau International Airport (YUL)
In 2018, Montréal-Pierre Elliott Trudeau International Airport handled 19.4 million passengers. It began operating in the 1940s and has been expanded and renovated over the years. The airport serves the greater Montréal region and surrounding areas, including New York and Ontario and is the busiest airport in Quebec. The airport, located on the island of Montreal, is the headquarter of Air Canada, Canada's national airline. Cities in Africa, North America, Europe, South America and Asia are served by many international airlines. The airport is operated by Aéroports de Montréal and is owned by Transport Canada.
Welcome to YUL
Aéroports de Montreal will assist you in planning your stay, providing you with tools and key information.
Ottawa Macdonald-Cartier International Airport (YOW)
Early in history, the "Hunt Club Field" in Ottawa has made its mark on Canadian aviation. When Canada celebrated its anniversary as a confederacy in July 1927, Charles Lindbergh landed in his "Spirit of St. Louis" on the small field, where he was greeted by about 60,000 spectators. The historic visit was celebrated with the renaming of the airfield to "Lindbergh Field".
Military and civil aviation at the end of the 1950s made the airfield with two runways the busiest airport in the country. In 1959 alone, an unbelievable 307,079 take-offs and landings were recorded.
Following continuous expansion and extension measures over the decades, the first phase of a more extensive new airport construction was completed in October 2003. The airport opened its doors to its new terminal building, which covers more than 60,000 square meters. It was built next to the existing old terminal and is connected to a covered parking area.
In December 2008 the 2nd phase was completed and included an extended national and an international area for 12 new gates. With a total of 26 gates, the airport handled about 5.1 million passengers from all over the world in 2019.
YOW
YOW is Canada's capital airport. Reserve your parking, check out our restaurants and shops, and prepare for your travels through the airport. Learn about the Airport Authority and how we are a world class gateway for Canada's Capital Region and an economic engine that drives prosperity for our commu…
Québec City Jean Lesage International Airport (YQB)
The airport was founded in 1939, one year after the closure of the Aérodrome Saint-Louis. Initially established as a training centre for aerial observers, the first flight took place on 11th of September 1941. First known as Aéroport de l'Ancienne Lorette, then as Aéroport de Sainte-Foy and later as Aéroport de Québec, it was renamed to Aéroport international Jean-Lesage in 1993 in honour of the former Prime Minister of Québec, Jean Lesage. The airport is managed and operated by Aéroport de Québec inc., a non-profit company.
In December 2017, the first phase of the last expansion project for the moment was completed with the opening of the new international terminal. The new facility features new baggage claim areas for international flights, a modernized customs area, an expanded restaurant area, four new gates, a more comfortable loading area for cars and buses, and a baggage area with increased capacity. The connection of the national and international terminals then completed the final expansion phase in summer 2019. Now the capacity is sufficient for about 2 million passengers.
Halifax Stanfield International Airport (YHZ)
Halifax Stanfield International Airport is located in Goffs, Nova Scotia, a rural community within the Halifax Regional Government. The area around Halifax, the mainland of Nova Scotia and the adjacent areas of the Maritime Provinces are its catchment areas. It is named after Robert Stanfield, the 17th Prime Minister of Nova Scotia and leader of Canada's progressive conservative party.
The airport, which has been owned by Transport Canada since its construction and opening in 1960, has been operated by the Halifax International Airport Authority (HIAA) since 2000. It is part of the national airport system.
Halifax Stanfield is the 8th busiest airport in Canada in terms of passenger traffic. With about 4.5 million passengers, it is almost on a par with Ottawa Airport. It is a hub for Air Canada Express, Cougar Helicopters, Maritime Air Charter, PAL Airlines and SkyLink Express.
After the attacks of 11th of September, the airport welcomed civil flights from the United States and Europe. 47 flights with 7,300 passengers – more flights than any other Canadian airport involved in the operation – ended here that day. Much of this was due to flights from Europe avoiding major airports such as Toronto, Montreal and Ottawa.
Halifax Stanfield International Airport
When visiting Halifax Stanfield in 2020, it's hard to believe the terminal building that exists today is nearly 60 years old. With bright interiors and large windows, modern washrooms and other passenger amenities, Halifax International Airport Authority (HIAA) has made strategic investments over th…
---