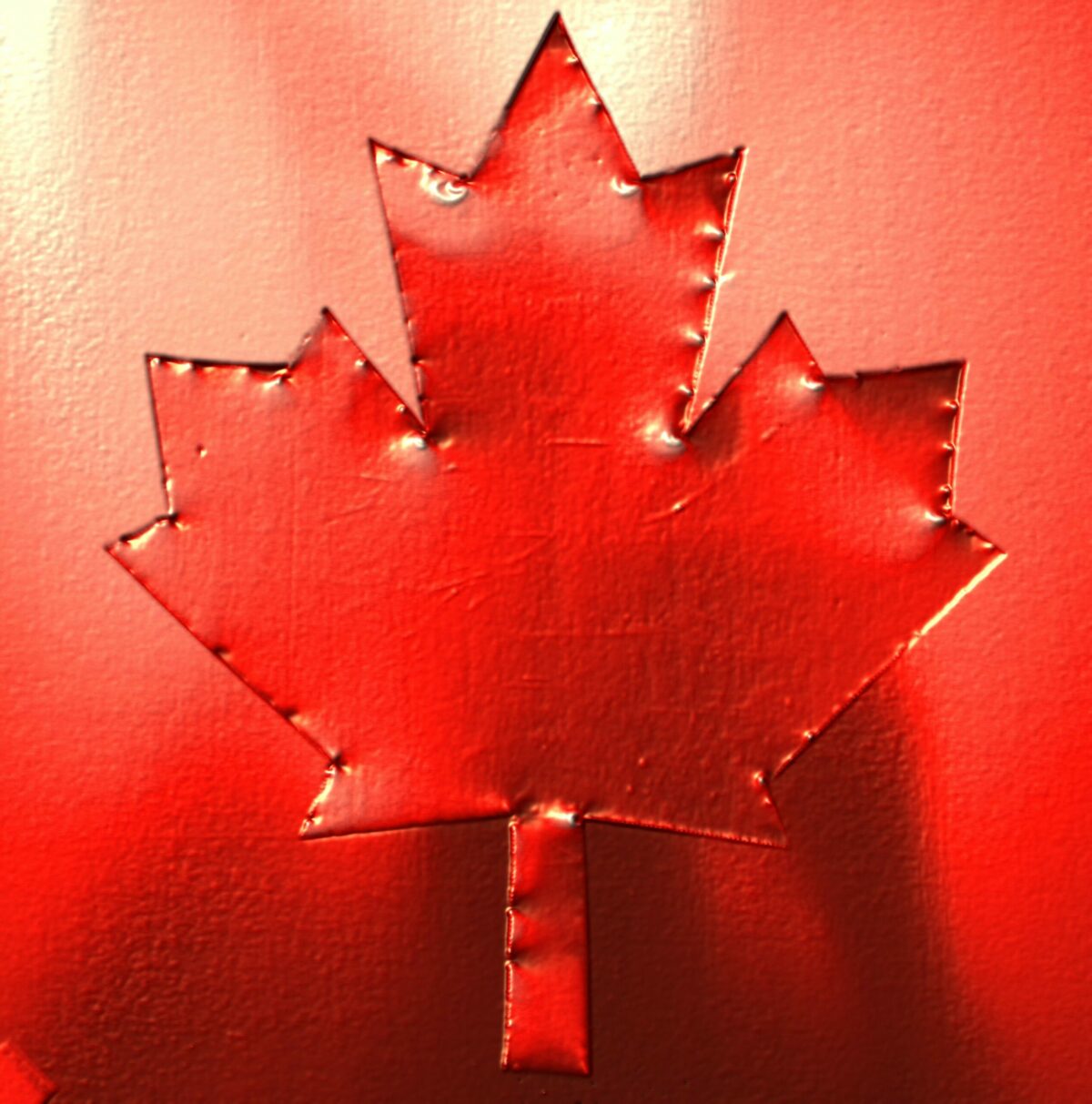 COVID-19 emergency border measures have ended
For all travellers entering Canada by air, land or marine mode on or after October 1, 2022:
Proof of COVID-19 vaccination is not required
COVID-19 pre-entry and arrival tests are not required
Quarantine after you enter Canada is not required
Using ArriveCAN is not required

if you're flying into Toronto Pearson, Vancouver or Montréal-Trudeau international airports, you can still use ArriveCAN to complete your Advance CBSA Declaration to save time upon arrival

Pre-boarding tests for cruise passengers are not required
As always, travel documents are required
Health checks to board planes and trains are not required
Wearing masks on planes and trains is not required
---
Entering Canada – formalities and requirements
For Europeans, a passport valid for at least 6 months is required for entry and border control into Canada. This also applies to young people over 16 years of age. Children under 16 years of age must also carry an identification document accepted by Canada. Please check with your local authorities.
NOTE: For accompanying minors with only one parent accompanying them or single parents, a written declaration of consent from the other parent is required. Parental guardians and child must carry their passport, identity card or children's passport with them. A copy of the identity card of the person with custody must be enclosed with the power of attorney. The authorisation must be completed in duplicate and written in the national language. You can find more detailed information in the following link:
https://www.canada.ca/en/immigration-refugees-citizenship/services/visit-canada/minor-children-travelling-canada.html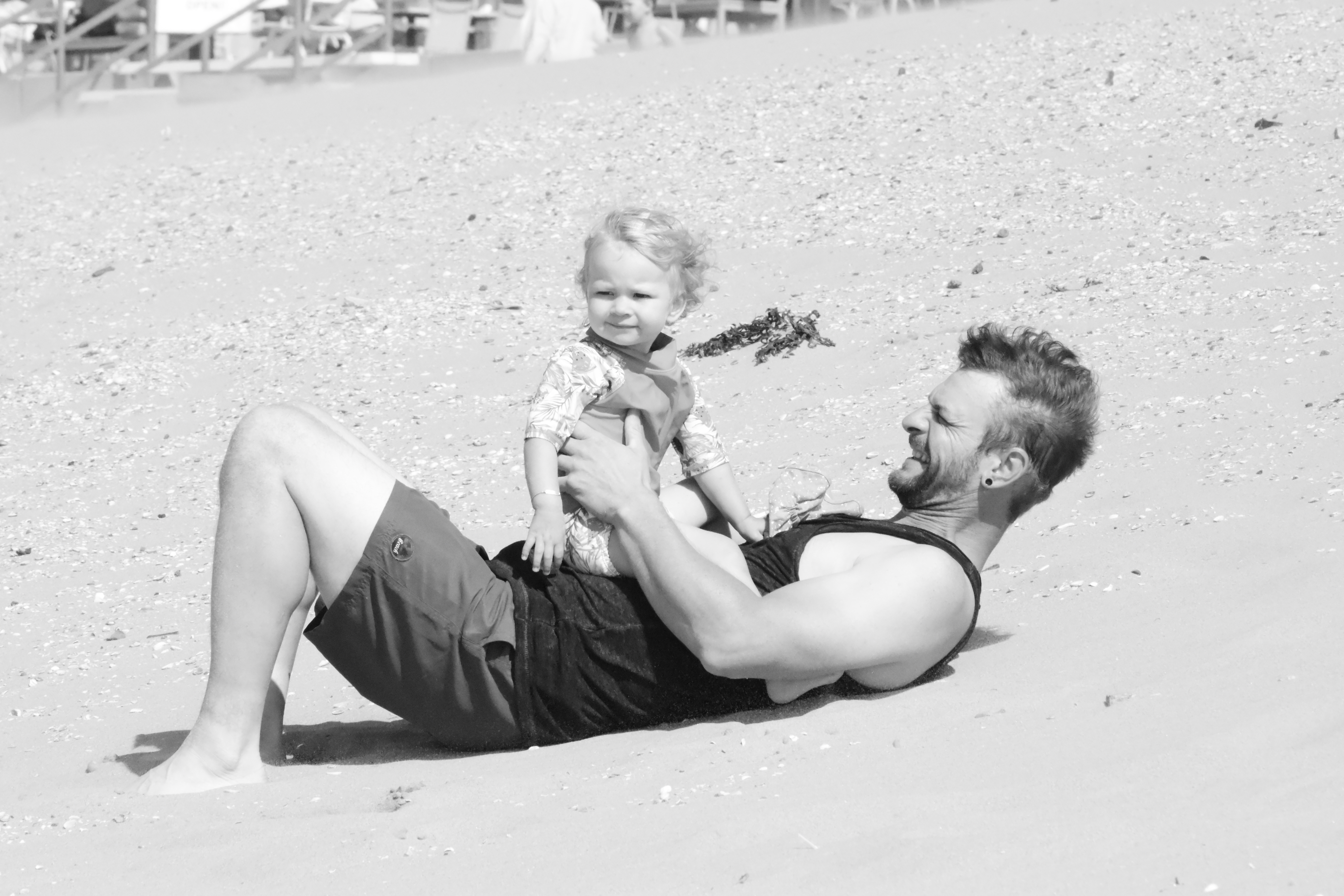 This power of attorney does not have to be shown, but must be available on request at the border control in Canada.
Since the launch of eTA* a few years ago, the stamp in the passport has done the job. The customs declaration is completed at the electronic terminals (kiosk). You will find more information on this below.
After answering a few standard questions during the entry check concerning the length of stay, reason for travel, value of any gifts, dutiable goods, destination, etc., you are welcomed to Canada.
In some exceptional cases, you may be referred to the "Immigration Office" and have to deal with more intensive questioning by the border guards..
Length of stay in Canada and medical advice
The maximum length of stay for tourists will be 6 months.
Vaccination against Covid19 is mandatory.
Please also note the following vaccination recommendations:
For all travelers:
Tetanus, Diphtheria, Covid
For travellers who are exposed to particular risks: Hepatitis B during close social contacts and during long stays, rabies for trekking trips and during long stays in rural areas, measles for all children.
An increased risk of infection without the possibility of vaccination exists for: Lyme disease, severe acute respiratory syndrome SARS (Toronto)
It is not required, but strongly recommended, to take out travel health insurance. Medical care in Canada is excellent, but also very expensive. Please inform yourself about it on this page: Medical care
Pets have to have an official veterinary health certificate proving that they are protected against rabies. This certificate must be at least one month and may not be more than one year old.
Primary Inspection Kiosks – Electronic Border Control Canada – eDeclaration
On most airports, including Montreal, Toronto (currently only Terminal 3), Ottawa, Quebec and Halifax, Canada has now introduced kiosks for electronic entry control for people who are not Canadians. The customs declaration (entry form) in paper form is now unnecessary. You simply scan your passport and answer the questions about customs electronically (different languages can be set in advance). After a photography of you has been taken, you proceed to passport control with the ticket the kiosk has printed.
Alternatively to answering customs questions at the kiosk, these can also be done in advance using the eDeclaration app. In this case you only have to scan the barcode from your mobile phone at the kiosk. Unfortunately, this APP does not always work so far.
You can learn more here:
Travellers – Primary Inspection Kiosks
Entry Form for Canada
Only in rare cases an entry form must be filled out, e.g. if the "Inspection Kiosks" are out of order. Families with a maximum of 4 members at the same address need only one form. This form must be presented together with your passport when you enter Canada. Afterwards you pick up your luggage and hand out the form at the customs control.
Customs and import regulations for Border Control Canada
Tourists can import personal effects duty-free and free of charge. This also includes sports equipment, bicycles, photo and video cameras, etc. Fishing and hunting weapons must be declared separately upon entry.
The following goods are duty free per person
200 cigarettes, 50 cigars and 200 g of tobacco per person over 16 years of age.
Gifts up to a value of 60 dollars per recipient.
1.5 l of wine, 1 l of spirits or 8 l of beer.
Nevertheless, the import of plants, meat and sausage products or other agricultural products is not permitted.
You can find more information by clicking this link:

Please check the import regulations of your home country before you return.
Apis – Advanced Passenger Information System
The Apis system requires airlines to register the personal data of passengers. This includes name, first name, sex, date of birth, type of travel document, passport number, nationality and country of residence. This informations will be recorded at check-in. More informations you will find here: https://res.aircanada.ca.
If you're flying into Toronto Pearson, Vancouver or Montréal-Trudeau international airports, you can still use ArriveCAN to complete your Advance CBSA Declaration to save time upon arrival.
APIS or CBSA has nothing to do with eTA. You must provide the data for APIS before every flight (many other countries also require this data). The eTA, on the other hand, you have to apply for a maximum of 5 years and is a completely Canadian matter.
The APIS additional data are compared with the IBIS (Interagency Border Inspection System) database and with the database of wanted persons of the FBI National Crime Information Center.
Any person who does not provide this additional information will not be allowed to enter Canada and will not be permitted to fly.
Entering the USA from Canada
For a side trip to the USA, a passport is required in any case. However, child ID cards are not accepted by the USA. In addition, you will have to pay a visa fee when entering the USA, for which you will need American dollars. Canadian dollars are not accepted under any circumstances.
Don't get joking during the questioning by the border officials, no matter how laughable the questions may seem to you. If, despite everything, you are turned away by the border guards, avoid any discussions at this point. Accept the decision and try another border checkpoint.
Electronic Travel Authorization – eTA Canada – How to apply
Citizens from the USA are excluded from the Canadian eTA system and can still travel to Canada without prior registration.
Citizens of countries that do not require a visa to enter Canada must have an Electronic Travel Authorization eTA. But only travellers who enter Canada by air must apply for an Electronic Travel Authorization via the Internet. Even if you are only making a stopover at a Canadian airport, you must still apply for an Electronic Travel Authorization eTA. This requires personal information that is checked with the authorities' databases.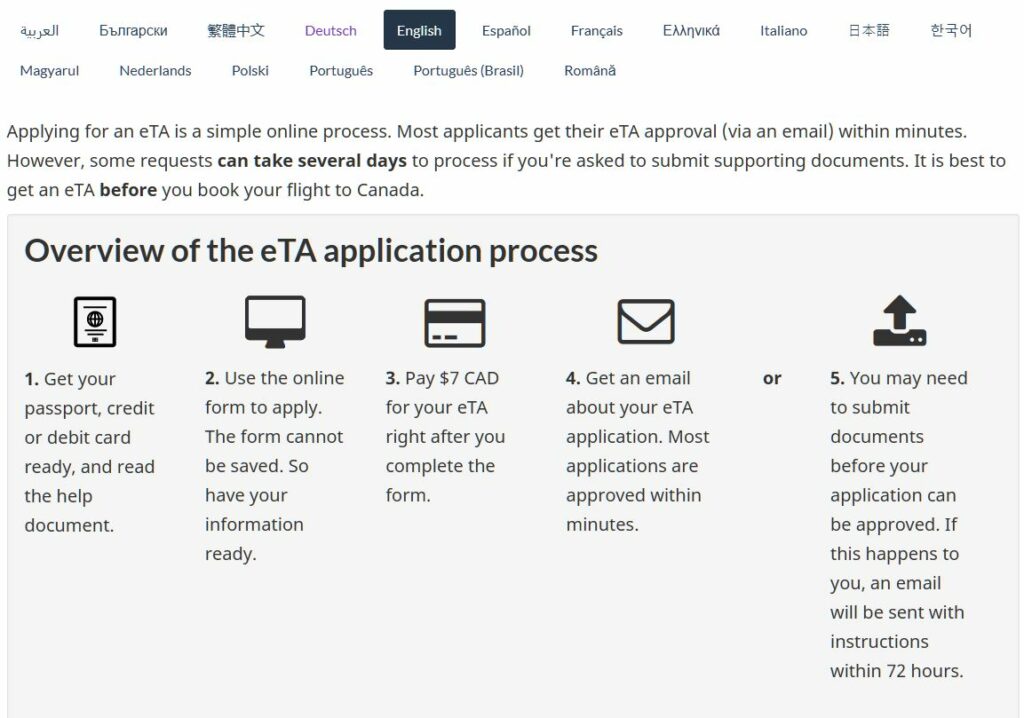 The Canadian government expects that the majority of travellers will receive their entry permit within minutes.
The travelers fill out an online application for the Electronic Travel Authorization. According to CIC, it is approved within a short time. Only the personal information that is otherwise requested upon entry into Canada will be requested. Since autumn 2016, it has been obligatory to apply for the eTA for Canada before departure. Forms are available online.
The Canadian government expects about 3.5 million eTAs per year. The eTA will cost seven Canadian dollars and is valid for a maximum of five years – or until the end of the validity of the passport for which the eTA was applied for.
eTA can be requested at:
www.cic.gc.ca/english/visit/eta.asp
Or use the Canada eTA application – service without a credit card
The eTA application can unfortunately only be paid with a credit card. If you don't want to do this, don't have a credit card or are simply hesitant to fill out the application, you can use the Canada eTA application service of an experienced visa agency*. This is of course associated with additional costs (19.95 Euro incl. eTA fees), but helps to avoid mistakes. You can also pay with normal bank transfer or instant bank transfer.
Be careful: There are a number of providers on the net who offer their services for eTA applications against payment. They sometimes take unfair advantage of the applicants' uncertainty. This is where prices are called up that are beyond a serious service charge. I have already seen EUR 85.00 per application. Max. 25.00 Euro incl. eTA fees should be enough for this service.
---